How to Track Loomis Express ?
This website provides a easy way for Loomis Tracking enquiry. Follow these instructions to use our freight tracking tool:
Get Loomis Express Tracking number from the receipt which you have received during parcel booking.
Enter the tracking number
Press Button start tracking to see the results.
Loomis Tracking Number and Result
Loomis tracking number will be something like this : LSHP24482756
After submitting the details tracking information received will be something like below :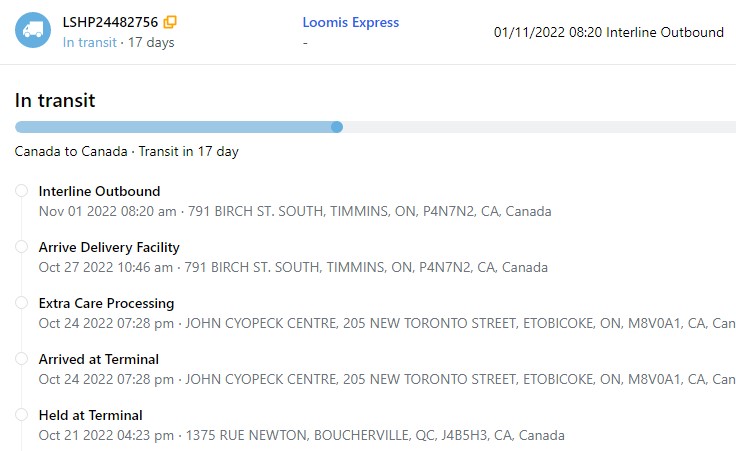 About Loomis Express
Loomis Express was purchased by TFI International in 2011 and is a key member of the parcel delivery segment. TFI International Inc. creates value for unit holders by managing and investing in a growing network of independent operating companies. Through these subsidiaries, TFI International is the leader in Canada's transportation and logistics industry. TFI International provides a comprehensive and unique combination of capabilities, resources and geographical coverage in both domestic and transborder markets. Its companies operate in five well-defined business segments: Less than Truckload, Package and Courier, Specialized Services (which includes transportation services, fleet management and personnel services), Specialized Truckload and Truckload.
Loomis Express Contact Information


Customer Service  : 1-855-256-6647

Outside of Canada  : 1-905-460-2530

Technical Support :  1-877-549-3638 

Address :
National Customer Service
Loomis Express
201 Westcreek Blvd
Brampton, ON Canada, L6T 5S6